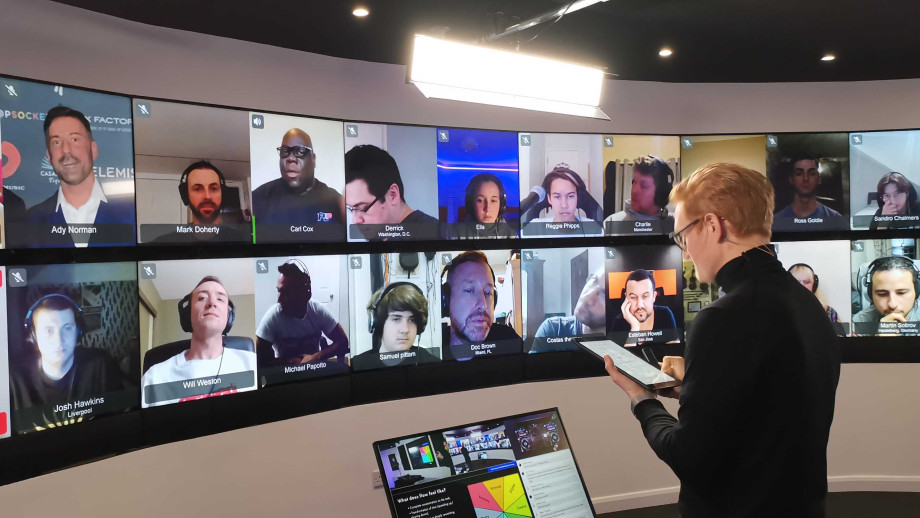 It's been a really big year for us here at Virtuoso and we want to thank everyone who's joined us on the journey so far and been inspired with their music. As we prepare for an even bigger year, with more events, amazing opportunities and new content, let's take a look at some of the biggest moments we've had here at Virtuoso over this past year.
Our new studio
We wouldn't have been able to release all of our amazing new video courses without having built our new filming studio. But what's a studio without the right people to use it? Our growing team of talented videographers, editors and directors have worked tirelessly throughout 2021 to bring our members new, high quality content to get them inspired and learning new skills.
One of the first artists to make use of our new studio was the one and only Carl Cox. He visited us in September to create his brand new video course all about building a career in the music industry. We're excited to be able to share this very soon, as the course drops on Monday 3rd January. Check out the details and watch the trailer for Carl Cox's course, Master your mindset.
Behind the scenes in the studio with Carl Cox in September 2021.
Future1000 with Jaguar
Back in May 2021, we launched the Future1000 programme with BBC Radio 1 host and DJ, Jaguar. This is a campaign to introduce more young female, trans and non-binary people to electronic music. At Virtuoso we share Jaguar's passion to make the music industry more representative and accessible to everyone. With sponsorship and support from the likes of Pioneer DJ, Pirate Studios and Soundtrap, we've been able to offer some incredible opportunities to young people looking to make their first steps as DJs or producers. You can still watch the video course presented by Jaguar.
Jaguar at a Future1000 event with one of our members in November 2021.
Industry insights
Pursuing a successful career in music is not just down to being a great artist or creative. There's so much to the industry that even established artists have to get to grips with. From legals, licensing, marketing, PR and distribution. That's why we started out Industry Live series on the Virtuoso Stage. We had artist guests from respected labels like 1985 Music and Critical, as well as industry experts like Joe Muggs, who gave advice and insights live and direct to our members. And 2022 going to see even more of these interactive virtual events.
Monthly memberships
With all the new content and events on the platform, we wanted to offer the most accessible way for aspiring music makers to be able to learn from them and join other likeminded people taking their music to the next level. At Virtuoso, we believe everyone should have the opportunity to learn how to make music. With this belief in mind, we launched Virtuoso as a monthly paid membership. This means that anyone can access all of our growing library of courses and virtual events on the Virtuoso Stage for just £5.99 per month.
Virtuoso CEO Austen Smart and Eats Everything on the Virtuoso Stage in January 2021.
Thanks again to everyone who has followed Virtuoso over 2021. We look forward to seeing you in the New Year and wish you the best in your music making.